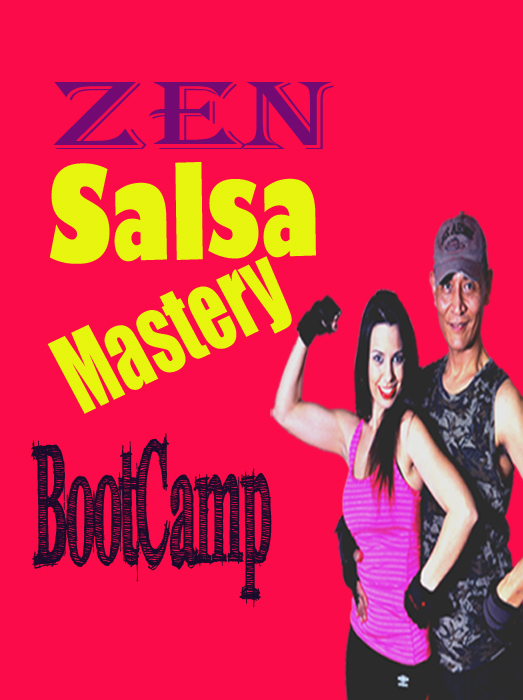 Share Zen Salsa Boot camp with your friends on Facebook --->
Who Will Benefit From This Boot Camp
If you have been dancing salsa less than a year (maybe more), and you wanted to be confident on the salsa dance floor plus have some impressively smooth styling as an advanced beginner, this is the day for you - you may be surprised how good you look at the end of the day. If you are an intermediate level dancer, and still want to become VERY musical with your dancing, this bootcamp will provide the very FOUNDATION that you need.
Who Are The Instructors
Sean and Alana have designed ZEN salsa mastery bootcamp which will take you from Beginner/Int. Beginners to Advanced Beginner Level in One DAY!!!! Sean and Alana are dance instructors at Dance With Me Dance Studio, Beachwood. Sean has started his love of dancing in ballroom-Latin dancing, and soon developed his love of going out to clubs for salsa dancing. Sean combined his techniques that he learned from top level coaches with his club social dance experience, and has been teaching salsa and club style Latin dancing since 2010. Alana has a backgound in ballet and jazz, and started to dance salsa socailly in salsa clubs, and eventually decided to train in Latin and ballroom for competitions. Currently Sean and Alana are competing, performing, and teaching as professional dance partners in ballroom, Latin, salsa, bachata, kizomba, Argentine tango etc.
How Is Zen Salsa Mastery Boot Camp Different From Other Classes or Workshops
Zen Salsa Mastery Bootcamp is designed for you to learn important concepts first. And when you apply this concept to your moves (that are very basic) or the moves you already know in a salsa song, you will be realizing that this concept is really making sense ---- so it flows like water and you will find it ENLIGHTENLING !!!!

No need to worry about memorizing complex turn patterns to be impressive on the dance floor. And no need to be stuck during the dance, thinking "Oh what do I do now". We will show you how impressive your dancing can be by using only the very basic patterns. Once you become good at applying ZEN salsa principles to these basic patterns, you can do the same thing to more complex patterns.

We will show you how you can achieve that level of ZEN step by step by following our instruction, and practice during the bootcamp. You will learn all that improtant concept that is necessary to acheive that level where you know what to do as an advanced beginner/intermediate level dancer to impress your peers and your dance partner.


Boot Camp Schedule
Bootcamp Module 1 - Foundation of Zen Salsa
10:30 am - 12 noon Basics Review

Basics Review - Basic footwork and turn patterns involving crossbody lead/follow, underarm turns, lady's walk, back spot turns. Must-know of lady's arm styling, All the leaders and followers must be able to lead and follow these moves without having to think about it and on-time. This class is to help with beginners so they become more proficeint. But advanced beginners are also highly encouraged to attend this class to solidify basic footwork and lead/follow techniques.

Bootcamp Module 2 - Zen Salsa Musicality & Styling 101
12 - 1:30 pm Musical Dancing (1); Salsa Music Structure and clave, tumbao, montuno explained, ABC of putting together musical dancing ; How to put together easy shines; both men and women's essential styling with underarm turn & crossbody turn patterns

1:30 - 3 pm Musical Dancing (2) Use of stops and transitional moves for musicality & playing - turn patterns - crossbody, underarm turn, lady's walk, back spot turn combos

Bootcamp Module 3 - Building Zen through Body Movement
3- 4:30 pm Musical Dancing (3) - Dynamic Dancing - What is slow and fast moves. How to mix up slow and fast moves. Use of slow-fast-stop motions. Use of shadow positions & dips; lady's shine with man's hand support.

4:30 - 6 pm Styling With Body & Arm Movement - use of body in transitions; smooth styling - bodyroll, under and over, playing with arms, arm and body styling for snap outs and baskets; more interestng and fun body movement and arm styling


* Every concept and principle will be explained, and demondtrated through dancing to actual salsa song examples.

How Do I Register or Purchase Boot Camp Pass?
price = $70.00 for all 5 classes in advance online

Purchase pass here --->http:// www.clevelandsalsapassion.org/zen-salsa-boot-camp-pass.html

Day of class: $80.00 for all 5 classes (or $25 per class a la carte)


Classed will be held at Dance With Me Dance Studio