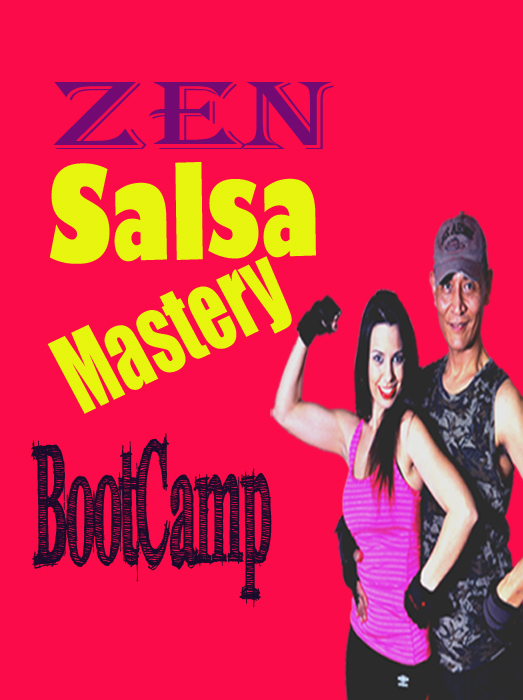 What Is Zen Salsa Mastery Boot Camp?
Zen Salsa Mastery Bootcamp is designed so you don't have to struggle to learn lots of different moves.
Zen monks teach minimalism to attain happiness. You can look amazing and have more fun by doing much less than what you think to do beautiful salsa dancing.
Throughout our bootcamp, you will be introduced to just a few select foundational moves that one needs to learn. You may already know them. The key to great dancing is to own those moves. You will become proficient in executing them throughout our bootcamp - drills and by using them in combinations. If you are a follower, you will get good at sensing and reacting to the leader's variations. You may already know them. The important thing is to own these moves. Once you master these moves, and can execute them effortlessly, all you need is to combine(or react to these moves as a follower) them and to add some styling. Your dancing will flow and look beautiful.
At our intermediate level bootcamps, likewise, you will learn select building block moves for intermediate level dancers. These will constitute the buildig blocks of the very impressive salsa dancing you see. By getting fluid with these moves and add variations, and with correct musical interpretation. You will be dancing at a very accomplished level. Once you realize and practie this concept, so it flows like water, you will find it ENLIGHTENLING that now you own the moves that will make your dancing so enjoyable!!!!
Beautiful Traveling Turns Demonstration by Sean(Instructor) and Student at the end of the boot camp held on February 10



You can achieve that level of ZEN by attending our Zen Salsa Mastery Bootcamp, and by practicing it. You will understand important concepts, learn techniques and drills, and gain confidence to acheive Zen level of salsa dancing to impress your peers and your dance partner.
Improve your salsa dancing drastically in one day!!!
Bootcamp Coming Up---> April, 2018
Boot Camp Date --- TBD --- Please check back here soon.
(please reserve your seat by calling 216-385-6096)
Level - For Intermediate Beginner, Advanced Beginner, and Intermediate Level Dancer: Prerequisite: You need to be able to do basics, cross-body lead/follow, lady's under arm turn smoothly (without hesitation) and on the beat.
----> Bootcamp Schedule
----> Bootcamp Registration
Future Upcoming Bootcamps
"Foundation" Boot Camp - TBD, 2018
"Musical Dancing" Boot Camp - TBD, 2018
Who Are The Instructors
Sean and Alana have designed ZEN salsa mastery bootcamp which will take you from your current level to next level in One DAY!!!! Sean and Alana are dance instructors at Cleveland Salsa Passion and Dance With Ballroom Studio, Beachwood. Sean has started his love of dancing in ballroom-Latin dancing, and soon developed his love of going out to clubs for salsa dancing. Sean combined his techniques that he learned from top level coaches with his club social dance experience, and has been teaching salsa and club style Latin dancing since 2010. Alana has a backgound in ballet and jazz, and started to dance salsa socailly in salsa clubs, and eventually decided to train in Latin and ballroom for competitions. Currently Sean and Alana are competing, performing, and teaching as professional dance partners in ballroom, Latin, salsa, bachata, kizomba, Argentine tango etc.

Classes will be held at Dance With Me Dance Studio