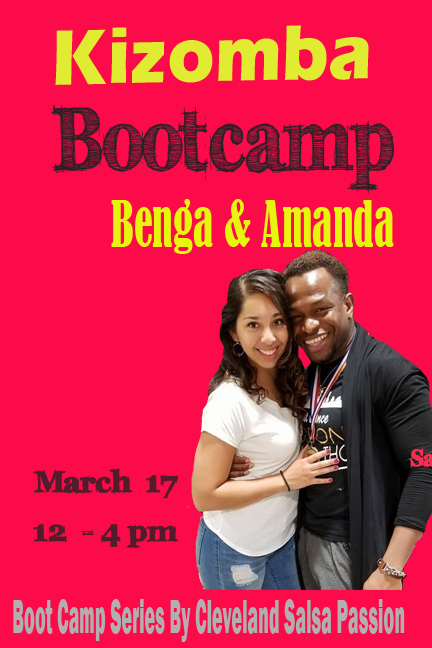 Learn to dance Kizomba. Originally the dance is from Angola, Africa. Now kizomba is getting popular all over the world. Sensuous and exotic melody and rhythm will make you fall in love with this dance. Originally from Nigeria, Benga Dabeatz attended U of Akron, and is currently travelling and teaching kizomba internationally. He is a dynamic and energetic dance instructor and will inspire you into the world of kizomba. Class schedule:

12 - 1 pm: kizomba fundamentals - walks, leading and following
1 - 2 pm: kizomba technique (body movement, importance of connection in partner work), men and ladies' saidas
2 - 3 pm : kizomba musicality and movements
(Using musicality and syncopated steps)
3 - 4 pm: Semba musicality, footwork, simple fun tricks

Instructor Benga is available for private lesson after the boot camp. Please call (216) 385-6096 to inquire details.

Fee: $80 
You can purchase full boot camp pass at a discounted price of $60 online before March 12. 


(please reserve your seat by calling 216-385-6096)
Level - For Intermediate Beginner, Advanced Beginner, and Intermediate Level Dancer:
----> Bootcamp Registration
Future Upcoming Bootcamps
"Foundation" Boot Camp - TBD, 2018
"Musical Dancing" Boot Camp - TBD, 2018
Classes will be held at Dance With Me Dance Studio.